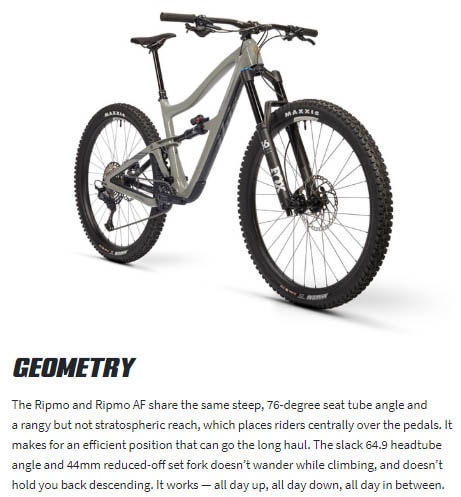 I love my 2016 Santa Cruz Bronson CC. It has been at my side through nine states, two big crashes, and a great many rides in all kinds of weather at all times of year. It has held up like a champ.
With my recent discovery of bike park riding, I feel like the Bronson, while a trusted steed, might be best off riding local trails. It's wheelbase and turning radios are suited well for our tight coastal range trail systems, thick wooded parks, and twisty obstacles. I'd like to get a new bike that is better-suited for the kind of riding that I want to emphasize as I move forward with my riding career (assuming we ever get to travel again).
To that end, I have been researching 29″ trail riders. There are a lot of contenders out there that I'm sure are more than capable. After researching a variety of bikes, my search came down to two finalists that I will seriously consider for purchase; the Santa Cruz Hightower and the Ibis Ripmo v2.
The Hightower is a fantastic bike. As a Bronson owner, I already know that Santa Cruz builds excellent frames and they ride extremely well. There's no disputing that I would be super happy on a carbon Hightower frame for many years to come.
On the other hand, the Ibis Ripmo v2 was just released and boasts some impressive credentials. Ibis slacked out the head tube just a wee bit, and they extended the reach. This makes a bike that was already a great climber also act as an even more impressive bike for going down the hills.
Both bikes have 29″ wheels and are available as frames only, or in a wide variety of build options. This is gonna be a tough decision.
I had demo rides booked for both bikes in March. In fact, I was looking very much forward to writing a head-to-head article on the bikes. I planned to rent them both over the same weekend and ride them on the exact same trails.
Covid 19 put an end to that plan. Both reservations were cancelled, and I have not had a chance to do much more than visually dress-down a Hightower at my local bike shop – I simply wasn't going to be able to ride one. Conversely, Ripmo v2 bikes became scarce. Obtaining one was described to me by a bike shop employee as analogous to "finding a unicorn". I was lost.
Test Ride
Last weekend, one of my best riding buddies told me a friend of his, Soren, an Ibis employee, was the proud owner of a large Ripmo v2. I mat Soren once in Ashland, Oregon (super nice guy) and he was willing to let me borrow his bike for the day! I instantly agreed and set up the date.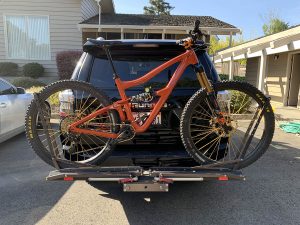 My friend already had the bike at his house when I arrived. I checked it out and loaded it onto my 4Runner for transport to the trailhead. I must say, it's an impressive build.
Industry Nine hubs on Ibis rims with hollow spokes, XX1 Eagle, Shimano Saint brakes, a DVO Jade Coil shock, and Fox 36 forks round out a bike that is perfectly suited for my needs as a slower rider who likes to tackle harder trails. It's light, spry, and as attractive as anything I've seen.
It's orange color is a by-product of its origin. This specific frame is an internal Ibis demo model and has a non-standard paint job. I like the color, but it's not an available option, so I tried not to love it too much.
The bike climbs incredibly well. It felt as if it wanted to push me up the hills. The 29″ wheels (which I am not accustomed to) roll over a lot of bumps that my 27.5 Bronson would telegraph to my arms and lower back. The added travel on the Ripmo also helped cushion the ride and changed the overall feel. I was spending my climbing time with the DVO shock locked out (essentially), and my Fox Float X on my Bronson doesn't completely lock out (as far as I can tell).
Going down the hills, the experience was, for me, unique. I had never felt a bike that wanted so much to do whatever I asked it to without any complaint. Big root drop? Sure! Roll over a giant rock feature? No problem! three-foot drop? If I asked, it answered. All without complaint.
The bike also handled like a dream. It turned quickly and responsively. On switchbacks, I was able to take the inside line and the bike hugged the trail in exactly the ways I would expect. It truly felt like an extension of my body, intuitively answering my thoughts. To put it simply, it felt amazing.
Well, I want one.
I know I have not test-ridden a Hightower yet, but I can't imagine how I'll be able to in the next 2-4 months, and I am ready to purchase now. I'm going to start calling stores to see what's available. If I can find a good frame, I'll buy it that day.
That's assuming any still exist. Ibis is telling shops that they are backordered through September or October. There are a few in the wild, it's just a matter of finding them.
Stay tuned…