I took the family on a quick road trip to Durango, and we stopped on our first night in Flagstaff, Arizona. We were going a little bit stir crazy at home with the pandemic, political, and social news that is exploding all around us. This time of year, we typically take a family trip, and we had already cancelled three of them. Since we recently tested negative for COVID 19 (my Wife had a cough, so testing happened), and since we are armed to the hilt with PPE and disinfectants, we jumped into the 4Runner and drove East.
Crossing California is easy enough; one simply needs to focus on their destination and be willing to sit for a few hours. Driving through the Mojave Desert in July is tricky because all of the nice, air-conditioned air which you have been collecting in your vehicle is immediately lost to the 113ºf heat when one stops for gas or a quick bio-break. Crossing into Arizona is a game-changer because the desert (mostly) is left behind. The landscape changes from desolate emptiness to scrub, then hills, then evergreens, and finally to alpine beauty.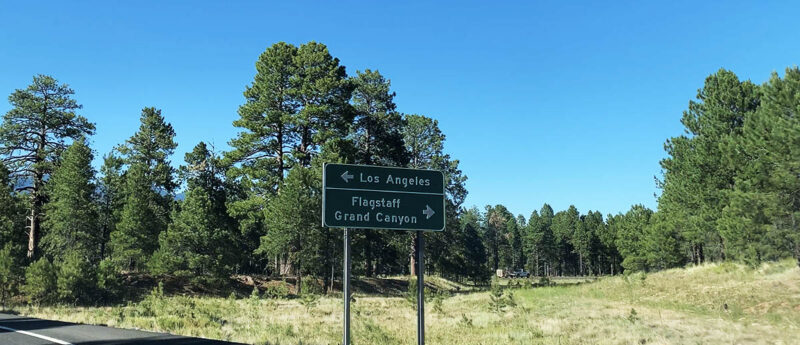 Arriving in Flagstaff was refreshing. At 93ºf, the air was almost cool. We pulled up in front of the AirBNB and unloaded a few bags and the bikes. We settled in.
Our rental was west of town on the edge of the forest. Being a city-dweller, its always comforting to have nature so close and so accessible. We rode our bikes downtown and had a quick meal at Mother Road Brewing. They have a large open patio where we could keep the bikes with us at all times and where we could safely distance from others. Good food, great beer, and a much-needed stretch of the legs.
I woke up early the next morning to hit a local trail before packing up the truck to continue on to Durango. 5:30 seems early, but the sun was out and the morning had already begun. It's a good idea during a heat wave to get out as early as possible and enjoy the outdoors before the heat sets in.
The rental has direct access to a trail system that runs behind the local homes. It connects to a smaller trail system which, in turn, connects to a larger network (mostly via roads) further North near Fort Valley Road. I didn't have time for longer explorations, so I hit the Observatory Mesa trail to see just how "intermediate" it really is.
This trail shares land with the Lowell Observatory. Percival Lowell pursued research which led to the discovery the planet (now called a "dwarf planet") Pluto in 1930.
The trail begins with a gentle uphill on an access road. Aside from the altitude, it was not a challenge at all. At the edge of the property (one passes through many areas of differing control and ownership), the trail turns to 'singletrack". It consists of a wide, rocky trail that is mostly flat, but has some sections where the speed increases. It can be fun.
Municipal trail systems such as these tend to be innocuous. They never pose much of a challenge, and they end up being bland as a result. This trail was no different – except for one section.
As the north end of the trail drops into the local neighborhood roads, there is a rocky section that is fast and fun. My curiosity about this trail's status as a blue "intermediate" trail was put to rest when I had to clear a short, rocky section that momentarily gave me pause. I cleared the rocky drop and was rewarded with a fast chute, weaving through trees and brush. Now this is what I came for!
Driving through town was a treat! I was greeted by a complex and beautiful network of local trails which traverse the city blocks and are dotted with baseball parks, pump tracks, and mountain vistas. It ended quickly and, before I knew it, I was back at the rental showering and preparing for the drive to Durango.
This was a welcome stop on a long drive. I'll try to break up longer driving trips with rides as often as I can in the future. It makes the driving a lot easier and it allows me to enjoy the local scene in a way that driving past just can't deliver.
Onward to Colorado!