On Father's Day, I met with my Brother-In-Law Rick and we rode through his Walnut Creek neighborhood hills on the mountain bikes. It was an amazing day with family and fun, and I was very lucky to be able to share the time with him.
Rick, who is form Switzerland, married my Wife's Sister. If it weren't for our respective ladies we probably wouldn't know each other, but I think we are both happy that we do. We get along well and Rick is a very capable rider.
Walnut Creek, located over the hills from Oakland, California and across the bay from San Francisco, is the location of Mt. Diablo; a formidable mountain which looms over the entire San Francisco Bay Area. The mountain itself and its surrounding hills contain many miles of access roads and trail systems. Rock knows them all.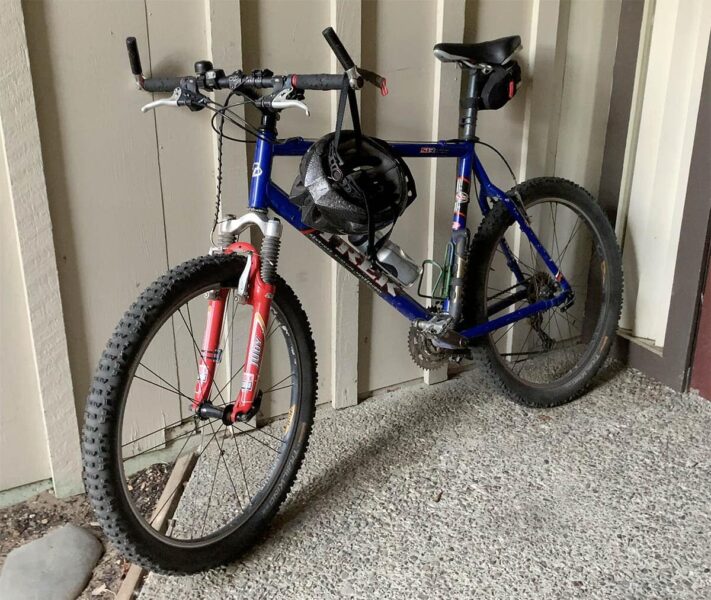 Although he was not able to ride the Ibis RipmoAF that he ordered several months ago (it is still on order and may not be in for many more months), he does still have his old Trek 8000 which he rides in the local hills regularly. I must say, he easily conquers both the technical sections of trail and the incredibly steep sections of access road that exist in the parklands.
We rode for about 15 miles. The winding and sometimes rocky trail systems that criss-cross the area are easy to access and fun to ride. Typically, neighborhood access brings a rider to the top of a ridge where trails can be accessed that lead to a variety of locations. Whether it be back to the bottom to another neighborhood, an undulating ridge-line, or a connection to an entirely separate network of trails, there is a seemingly endless array of directions to choose. There are some singletrack sections, but it seems that most of the "trails" are actually access roads. This is a good thing since it is easier to keep distance from other riders and hikers when encountering them.
We rode for a couple of hours and enjoyed the lookouts, vista points, and fun downhills while we discussed anything that came up. From bike maintenance to child rearing, we enjoyed the morning and returned to our lovely wives for a delicious (and distanced) lunch of ribeye steaks, grilled shrimp, steamed vegetables, and great beer.
I got to spend the rest of the day with my Wife and my wonderful kids. We made popcorn and watched movies until the sun went down. I am truly lucky to have them in my life.
If you have kids (and you're a Dad), I hope your Father's Day was a great one. Either way, I hope you can get out on the bike soon.