Enjoy Durango
Durango is filled with lots of activities for people of all ages. From fishing to biking (road and mountain) to hiking and backpacking, the outdoor style of this town attracts anyone who has a healthy sense of adventure. Durango's remote location makes travel a little bit more complicated than many other locations, and that suits the locals just fine. Durango is not overrun with tourists and traffic; it is typically an easy town to get around in and there are a lot of places to see.
Activities
Durango is filled with a wide variety of activities that are sure to please almost anyone. From fishing to biking to hiking, skiing, shopping, and much more, it should be easy to fill your time with all that this town has to offer.
Durango Visitor Resources Link
Riding the Bike
Durango is one of the best places to ride west of the Mississippi, if not the entire nation. There are many trail systems that start right here in town and there are even more if you're willing to travel a short distance to get there!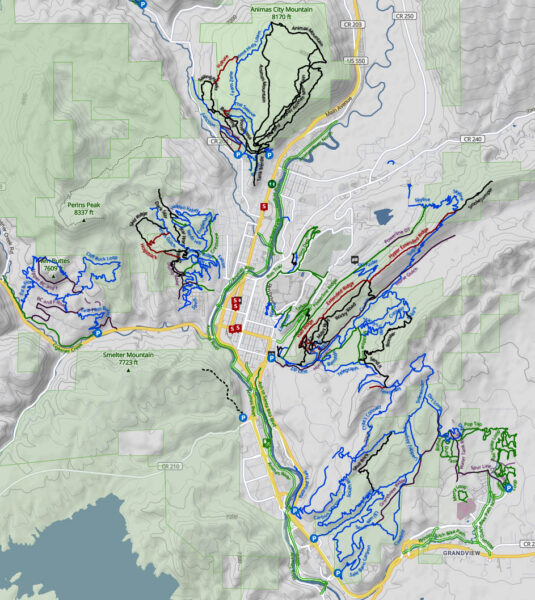 In Town
There are several local trail systems that are quick and easy to access from inside the town. You can even ride to many of them right from home!
Please remember that Durango's elevation is well above 7000 ft. in most places and can hit you pretty hard if you are (like me) used to riding at sea level. Please be careful riding. Bring enough water to stay hydrated and take breaks when necessary. Bring a map and RIDE SAFE!
Twin Buttes – Located just west of town on Highway 160, this is a fun ride with some of the best flow in the local area. It begins with a solid climb up to the access road where you can continue to ascend and take the optional Cliff Rock Loop (an amazing, exposed trail with great views of the town). Upper Twin Buttes trail leads behind the twin rock formations for which this area is named and is worth the steep climb. From the top, you make your way to Upper Ed & Flo where you can enjoy a fast and fun drop down to Lightner Creek. From the bottom, you will enter the Twin Buttes housing development where you can purchase a single family home before you head back to the parking area.
Overend Mountain Park – Named after local legend Ned Overend, this trail system was donated (by Ned) to the city for use as a trail system. It offers a wide variety of difficulties and terrains. There are no real "routes" to follow at the park – it's fun to wander the segments and explore the ridges and valleys. Be warned, the black diamond trais at this park are not for beginners! There is some serious terrain here and, while it is fun for advanced riders, it could potentially put novice riders in serious peril. The blue trails are fun and a great workout, but ride the blacks with caution.
Horse Gulch/Telegraph – Located in the southern portion of downtown (near the Sonic drive-in) is a small system that contains a variety of interconnected trails of all sorts, sizes, and difficulties. The main access road starts on the edge of town and climbs up through the gulch where it connects to some challenging segments like Sugar (climb this one) and Ben's Down N' Out (downhill only). The ridge is the home of some VERY challenging segments like Extended Ridge, Hyper Extended Ridge, and Smokejumper. Also starting at the ridge is Skyline; a drop down the north slope to Bread Express and Florida Road (and back to the house!)
Horse Gulch also hosts the Telegraph system where the short segments interconnect to provide fun and flowy dirt that can be challenging, but can also be entertaining. Little jumpy sections (not super advanced), quick flowy berms, short climbs, and beautiful town views punctuate the area and make for an almost "bike park" style experience. A few of the black trails are sketchy, so bring the map and a lot of courage!
Animas Mountain – This is more of a hiking trail. The terrain is VERY rocky and difficult to climb. People ride it, but it is not a place for an easy afternoon roll. The lookouts are fantastic, and the downhills are fun (if you are into gnar), and it is easy to get to from the north end of town. Most of these trails are black because of the rocky stuff.
Just Outside of Town
Phil's World – Located about 45 minutes west of town near Cortez on Highway 160, Phil's World is gaining a reputation as one of the funnest places to ride in Colorado. It is filled with exposed trails that climb and descend through the low canyons. The trails are filled with short rocky sections (none are particularly challenging, but they are fun), and quick chutes that take you to the bottom of the ravines where you can start the climbs all over again. There are several lookouts along the way that are worth the trip.
This trail system is fairly exposed and can get hot and dry in the Summer months. The longer routes, While worth the effort, can sap the hydration away and leave you parched, so bring LOTS of water. One especially fun section is Rib Cage; a flowy and hilly trail with lots of drops and rises. Your momentum carries you through almost all of it and will leave you wanting to do it again and again!
All the trails in Phil's World are unidirectional and are meant to be ridden clockwise. Please follow local trail guidelines and look out for other riders.
Purgatory Resort – When it's open (summer months), this lift-access bike park is a favorite among the locals. It has all the amenities you would expect from a resort of this type, and it offers a lot to every level of rider. Divinity Flow is a GREAT trail that feels like a waterslide and will have you returning to the top just to feel it again. 7th Heaven and Diggler are both quick segments that are fun and fast. Pirate contains some sketchy sections, but is a good transition from blue to black. The Links trail is an advanced and ultra-technical drop down the face of the mountain – don't even consider it unless you are prepared for a MAJOR challenge that may involve walking the bike.
https://www.purgatoryresort.com/activities/mtn-bike-uplift/
Missionary Ridge – I have less experience in this area. Some of the trails top out at (or above) 10,000 feet above sea level! The locals tell me it is fun, but filled with some very challenging runs. Ride this area after it warms up a bit since there are various creek crossings.
Halfin Creek, a double black, drops over 3000 feet in less than 4 miles and features cliff drops that are pretty scary if you aren't prepared for them.
Engineer Mountain – About one hour north of town is Durango's cherry on the cake. Engineer Mountain is a challenge to ride, but it is very much worth the effort in getting there, and putting in the pedal strokes on the climb.
This mountain needs to be shuttled, preferably with two vehicles. One can be parked at the lower lot (the end of the ride), and one parked at the upper lot (the start). The ride down is long and sometimes technical, sometimes fast. This is a black trail.
The mountain tops out at over 13,000 feet, but the trail only goes up a bit over 11,000. You will feel the elevation.
Bring a camera.